DMDE New Version 4.0.6 - Change Log
DMDE is a powerful tool for data searching, editing, and recovery on disks. It may recover directory structure and files in some complicated cases through the use of special algorithms when other software can't help. The application is listed, reviewed, and awarded in magazines and catalogs.
Download most popular




DMDE 4.0.6 for Windows, 64-bit

Installation and Run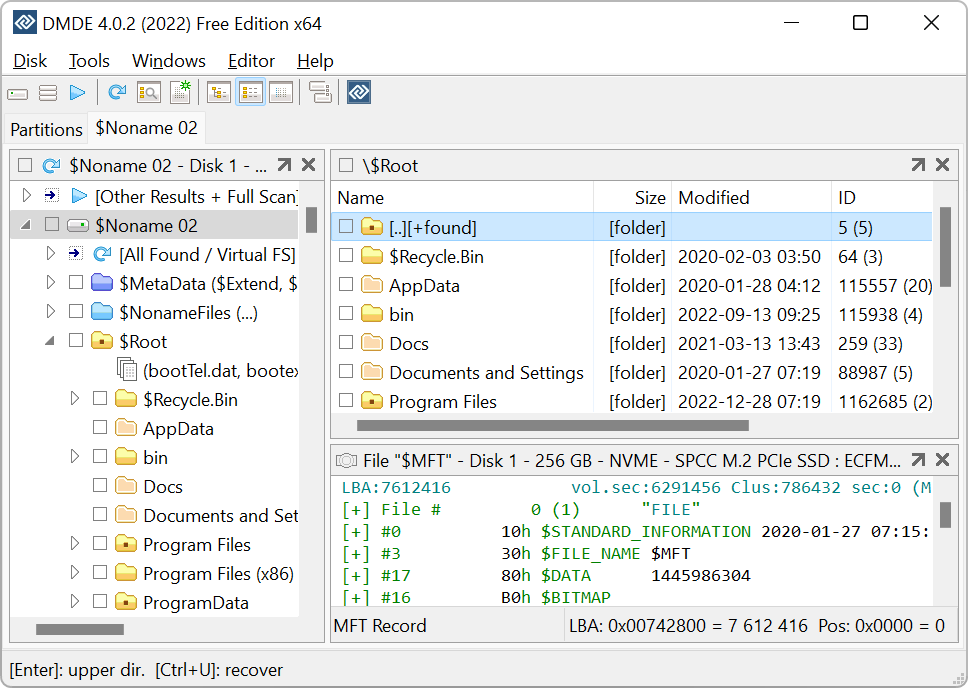 Features
Supported file systems and OS
FS: FAT12/16, FAT32, exFAT, NTFS, ReFS, Ext2/3/4, HFS+/HFSX, APFS, btrfs
OS: Windows, Linux, macOS, DOS
File system support doesn't depend on a host OS (you can run software on Windows to recover Linux data, and so on) See Installation and run.
Algorithms of thorough search and analysis effectively reconstruct directory structure and recover files after some complex file system damages (such as format, partition manager failure, and other). It is possible to find data quickly without a full scan in the case of minor filesystem damage.
Data recovery by file signatures (Raw-recovery) is added to cover cases when recovery by file system is not possible.
*For free you can recover up to 4000 files from a chosen directory, with the unlimited number of repetitions. Other freeware basic features: preview for common image formats, simple partition manager (allowing partition undeleting), a tool to create disk images and clones, RAID constructor, disk editor
Simple partition manager finds and restores accidentally removed partitions using information from boot sectors/superblocks of FAT, NTFS, exFAT, Ext2/3/4, HFS, and from their backup copies. Partitioning is displayed in the form useful for analysis and error detection.
RAID constructor is a tool to virtually reconstruct RAID supporting RAID-0, RAID-1, RAID-4, RAID-5, RAID-6, as well as custom striping, delayed parity, JBOD/spanned disks, automatic detection of RAID configurations.
Disk clone feature includes creating, writing images back to disk, disk cloning, and supports handling of I/O errors (bad sectors).
Other features
DMDE is portable and runs just after extracting.
Disk editor is compatible with the most recent Windows versions and supports automatic volume locking during writing to volume areas. With the disk editor you can view, edit, and navigate through files and different disk structures (such as MBR, GPT, boot sectors, file tables, and directory entries of file systems), use custom templates.
Cluster map allows finding files occupying specified clusters or sectors.
NTFS utilities allow you to copy, delete files, create, repair, remove directories bypassing NTFS driver.
DMDE supports national file names, large disks, large files, large sectors, sector translation, compressed NTFS files, and other specific features.
During our tests, DMDE was able to recover all files successfully with filenames intact from a drive where they'd been deleted from the Recycle Bin. The utility was only slightly less successful with the drive that had been formatted after the files were deleted, recovering 92% of the files without the filenames.
We were particularly impressed how DMDE handled our simulation of a corrupted/damaged drive. The utility was able to recognize the lost partition immediately and recovered all of the original files including their filenames without issue.
DMDE is a powerful workstation that allows enthusiasts to put drives and images under the scope for thorough analysis. With the set of tools the application comes equipped with, you'll be able to gather binary data, explore the cluster map and save the majority of files once removed or declared lost.
DMDE helps you reconstruct the directory structure and recover your files after various complex system damages thanks to its thorough search and analysis features.
Moreover, it can find and restore partitions that have been removed accidentally by using information from boot sectors or superblocks of FAT, NTFS, exFAT, Ext2/3/4, HFS, and from their backup copies as well.
It's one of the most effective tools out there. The tools are compatible with Windows, Mac, and Linux.
DMDE earns its spot on our list as the best option for advanced recovery capabilities, thanks to its powerful set of tools and features. This software not only handles common data recovery tasks but also excels in recovering data in complicated cases where other software falls short. Its algorithms effectively reconstruct directory structures and recover files after complex file system damages, such as formatting or partition manager failures.
Previous
Next
Impressive piece of software. The only one I could find that doesn't crash when I plug my faulty drive in. Even when the drive disconnects itself mid-operation, the program automatically resumes when it's reconnected, so I've been able to back up all my data with very little inconvenience considering how much damaged the drive is. I probably could have done it using the free version (it limits your batches to something like 4000 files), but at such a low price, I'm happy to own a piece of software that works this well.
Betty